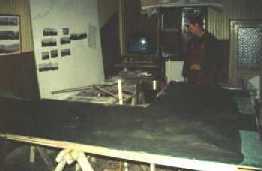 Dall' ottobre 1998 il Signor Antonino Catanzaro, residente a Cerda, lavora ad un ambizioso progetto, un plastico in grande scala del piccolo circuito della Targa Florio.
From October 1998 Mr. Antonino Catanzaro, resident to Cerda, work to an ambitious plan, a relief map in big staircase of the small circuit of the Targa Florio.
Ed ecco il Piccolo Circuito della Targa Florio in miniatura inaugurato il 6 giugno 1999 presso il locali della Pro-loco di Cerda. Tutte le domeniche il plastico è aperto, a CERDA in Via Roma, 133. In Via Roma, 54 c'è una mostra permanete di fotografie e cimeli, ed è possibile ammirare il casco del barone Antonino Pucci campione d'Italia 1958 e vincitore della Targa Florio 1964.
And here the Small Circuit of the Targa Florio in miniature dedicated the June 6 1999 beside the local of the Pro-loco of Cerda. All Sundays the relief map has opened, to CERDA in Via Rome, 133. In Via Rome, 54 there is a permanent show of photos and remains, and it is possible admire the helmet of the baron Antonino Pucci champion from Italy 1958 and winner of the Targa Florio 1964.
ZOOM